Windows Reseller Hosting
HostOnNet.com offers something quite unique for the web hosting industry, a bulk reseller scheme based on windows 2008 servers. You can quite literally host as many domains as you want under one, single reseller account.
How easy is it? Easier than you would ever think! With our WebSitePanel control panel, you can create a hosting account just by providing a domain name, username and password. The account is instantly created and your customers can start using the account by accessing their own separate control panel setup just for them.
Get Started with HostOnNet Windows Web Hosting Today!
Take a look below at the plans available, if there isn't one available that you require then contact us at sales@hostonnet.com for a custom plan, or a managed server.
| | | |
| --- | --- | --- |
| | Deluxe | Ultimate |
| Disk Space | 50 GB | 100 GB |
| Bandwidth | 500 GB | 1000 GB |
| MySQL Databases | Unlimited | Unlimited |
| POP3 Accounts | Unlimited | Unlimited |
| FTP Accounts | Unlimited | Unlimited |
| Subdomains | Unlimited | Unlimited |
| Email Aliases | Unlimited | Unlimited |
| Setup Fee | Free! | Free! |
| | Buynow | Buynow |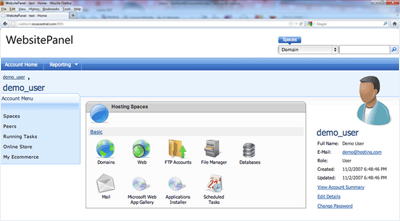 WebsitePanel - The powerful & flexible Control Panel
Give your customers the ability to manage their services with access to their own account in WebsitePanel. WebsitePanel allows you to create subaccounts for resellers and assign resource pools for them to delegate as necessary. It enables you to centralize the management of your hosting infrastructure and share resources across multiple customer accounts.
Manage your entire hosting environment in one place. Deploy servers, create and manage users, mailboxes, websites and more… All within a single interface!
---
Features of our Windows Reseller Hosting
Host as many accounts as you like for a fixed fee
All Plan includes:
| | |
| --- | --- |
| ASP | |
| ASP.NET | |
| IIS 6.0 (Win 2003) / IIS 7.0 (Win 2008) | |
| PHP 4 | |
| HELM Reseller Control Panel | |
| HELM Client Control Panel | |
| 24 Hour Server Monitoring | |
| 99.5% Uptime Guarantee | |
| Server Side Includes (SSI) | |
| Frontpage Extensions (on request) | |
| Branding | |
| SMTP Mail Server | |
| Custom Error Pages | |
| Unlimited Domain Hosting | |
| Unlimited Email Addresses | |
| Unlimited Autoresponders | |
| Unlimited POP3 Boxes | |
| Unlimited Forwarders | |
| Unlimited MySQL Databases | |
Available Components:
| | |
| --- | --- |
| ASPeMail Standard | |
| WhoisDLL | |
| Dundas Upload | |
| AspTear 1.0 | |
| W3Jmail Free by Dynamic | |
| Microsoft ActiveX Data Objects 2.6+ | |
| Microsoft CDO for NTS 1.2 Library | |
| Microsoft Scripting Runtime | |
| Microsoft Script Control 1.0 | |
| Microsoft HTML Object Library | |
| Microsoft Access Support MDAC 2.8 | |
| MSWC Counters Object Library | |
| MSWC IIS Log Object Library | |
| MSWC MyInfo Object Library | |
| Unlimited Email Aliases | |
| MSWC Page Counter Object Library | |
| MSWC Status Object Library | |
| MSWC Tools Object Library | |
| Microsoft XML 4 | |